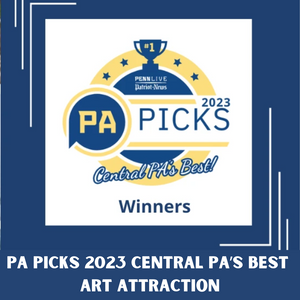 🎉 Celebrating Excellence: Coexist Gallery Named Best Art Attraction! 🎨


We're thrilled to share the exciting news: Coexist Gallery has been voted Central PA's Best Art Attraction by the Patriot News and Pennlive.com! 🏆 We extend our heartfelt gratitude to our incredible community, patrons, and supporters who have made this recognition possible.

✨ A Platform for Local and Global Talent:
Coexist Gallery is not just a space; it's a vibrant community hub that supports both local and global artists. We believe in the power of unity through community, and our walls reflect the rich tapestry of artistic expression from various perspectives.

🎨 Immerse Yourself in Creativity:
Whether you're a seasoned art enthusiast or a casual visitor, our gallery offers an immersive experience. Engage with thought-provoking pieces, attend events, and connect with fellow art lovers. Coexist Gallery is more than a destination; it's a celebration of artistic expression and community spirit.

📅 Stay Tuned for Upcoming Events:
We're gearing up for more exciting projects and events. Follow us on social media and stay tuned for updates on upcoming exhibitions, workshops, and community gatherings.

🙏 Thank You for Coexisting with Us:
This recognition is a testament to the passion and creativity that thrives within our community. We express our deepest gratitude to everyone who has contributed to making Coexist Gallery a haven for art lovers. Here's to celebrating art, unity, and the vibrant spirit of our community!
---