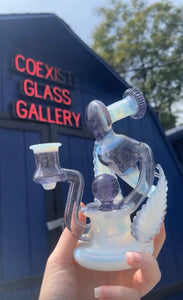 An Incredible Display of Glass Art
Coexist Glass Gallery is a stand-alone store and community center settled in downtown Steelton Pennsylvania. Well known in the neighborhood for their motto "Unity through Community" which they exercise through a variety of community events such as the Arts & Farmer's Market that brought fresh produce to Steelton which has long been considered a food desert, as well as their open mic night which provides a safe and enjoyable family friendly evening event every Thursday which had brought many talented individuals together for many nights of music, laughter, and wholesome fun. 
Community ventures aside, the gallery boasts an impressive collection of art ranging from handmade creations from local artists, to globally established glassblowers who regularly stop in to use the gallery's studio, demonstrating their craft to the clientele. The glass art includes stunning one of a kind functional pieces to mesmerizing statement pieces including pendants, earrings, and more. It is a place you could easily spend hours in and still not have seen all of the creations housed within it. The outside of the building itself attracts many visitors as the owner and CEO Shawn Gold has commissioned talented mosaic artists to teach and lead the community through a spectacular neighborhood beautification project with the aim of bringing people together and investing them in the place they reside. 
---