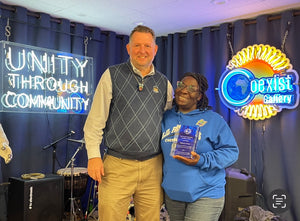 Coexist Community Excellence Award
Introducing our remarkable Coexist Community Excellence Award recipient: Tiphanie Savage!
Steelton born and raised, Tiphanie's deep-rooted connection to this community spans generations. Her family's legacy here dates back to the late 1950s when her grandparents, Daniel and Swayzne Savage, moved from Kelford, NC.
From a young age, Tiphanie was instilled with a passion for community involvement. At just 16, she began her journey coaching youth cheerleading with the Steelton
Raiders, circa 1999. Her dedication and talent led her to coach Steel Hi Jr, Jv, and Varsity Cheerleading, achieving numerous local and national championships by 2009.
In 2022, Tiphanie joined Lil Rollers Youth Services Inc, reigniting her passion for coaching cheerleading. This year, she witnessed an incredible expansion, growing from 28 athletes to an astounding 70! Together with a fantastic team of 12 phenomenal women, they worked tirelessly all summer, raising funds to provide uniforms, bags, bows, and socks for every athlete.
Tiphanie is also a Steelton Business co-owner of Network Masonry & Restoration LLC established 2017.
Tiphanie's unwavering commitment to Steelton and her exceptional contributions to the community have earned her the Coexist Community Excellence Award. Join us in celebrating her remarkable journey and the positive impact she's made on our beloved community.
---