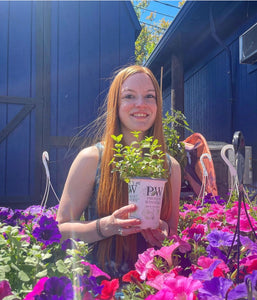 Crystal & Stone Creations by Myra Menzer
Myra Menzer is the lead artist on the Coexist in Kindness Mixed Media Mosaic Project and has been an incredible asset to the community as she takes the time to introduce and train community members in glass mosaicking so that they are comfortable and confident participating in the town of Steelton's largest public art project. 
When she isn't working on community art projects or helping customers in the glass gallery, Myra spends her time creating a large assortment of stone and crystal pendants by wrapping wire into intricate patterns around beautiful hand selected center stones and crystals. She also works with other natural materials and is well known for her handmade "wishes" which are beautiful delicate paper stars that make a fanciful and charming gift to hand out to family and friends alike.
Some of Myra's signature wire wrapping collections includes: snails (as pictured above), spiders, kyanite broomsticks to sweep away bad energy, shooting star stones, Tree of Life wrapped crystals, fish bone wire wraps, dog bones, many many mushrooms, and so much more. She is always open to custom work and enjoys collaborating with her customers to create unique and heartfelt statement pieces that are cherished by many.
Myra's work can be found at Coexist Glass Gallery as well as a plethora of local festivals such as Threestival and Beardfest. Requests for custom pieces as well as a full display of all she is made and has available can be found at her instagram minimyzcreations.
---