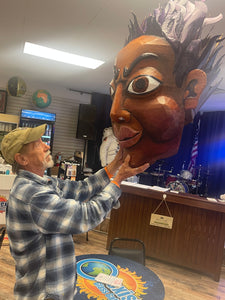 June 14th-17th 2023 Unleashing Artistry and Imagination: Jeff Semmerling Returns to Coexist Gallery!
Introduction:
Prepare to be mesmerized and inspired as the incredible Jeff Semmerling makes his triumphant return to Coexist Gallery! With his masterful puppet-making skills and boundless creativity, Jeff is set to unleash yet another jaw-dropping display of artistry that will leave you in awe. Join us on this captivating journey as we delve into the magic of Jeff's craft and the upcoming spectacle that awaits at Coexist Gallery.
Awe-Inspiring Puppetry:
Jeff Semmerling, a renowned artist and puppeteer extraordinaire, has captured the hearts of many with his previous works, including the iconic Rick and Morty masks and the legendary Cheech and Chong set. Now, brace yourselves as he embarks on a new endeavor, the creation of a grand "Scales of Justice" puppet created with cardboard and Papier-mâché. This ambitious project will require the combined efforts of three skilled puppeteers to breathe life into this awe-inspiring masterpiece.
The Artistry Unveiled:
At Coexist Gallery, we are proud to host this extraordinary event where artistry and imagination intertwine. Witness the meticulous craftsmanship and attention to detail that Jeff pours into every fiber of his creations. From the initial design concept to the intricate sculpting, painting, and assembly, you'll be captivated by the level of skill and dedication displayed throughout the puppet-making process.
A Journey of Collaboration:
Beyond the enchanting puppet itself, what truly makes this event special is the spirit of collaboration that Jeff fosters. By involving multiple puppeteers, he emphasizes the power of teamwork, creativity, and shared vision. Prepare to be amazed as these skilled individuals seamlessly synchronize their movements, breathing life into the puppet with every gesture and expression.
Join the Spectacle:
Coexist Gallery invites you to immerse yourself in this magical spectacle. Mark your calendars and be a part of the excitement as Jeff Semmerling brings the "Scales of Justice" puppet to life. Witness firsthand the synergy between art and performance as the puppet takes center stage, its symbolism echoing the timeless themes of balance, justice, and unity.
Don't Miss Out:
This unforgettable event will be held at Coexist Gallery from June 14th - June 17th. Be sure to invite your friends, family, and fellow art enthusiasts to join in this celebration of creativity and imagination. Embrace the opportunity to engage with Jeff Semmerling, learn more about his artistic process, and gain a deeper appreciation for the art of puppetry.
Stay Connected:
Stay updated on all the latest news and behind-the-scenes glimpses by following Coexist Gallery on our social media platforms. We'll be sharing exclusive insights, artist interviews, and sneak peeks into the mesmerizing world of puppetry. Get ready to be transported into a realm where dreams come to life and artistry knows no bounds.
Conclusion:
As Jeff Semmerling returns to Coexist Gallery, the air crackles with anticipation. Prepare to embark on an unforgettable journey where artistry, collaboration, and imagination collide. Join us at Coexist Gallery and witness the birth of the "Scales of Justice" puppet, a testament to the limitless power of art to inspire, provoke, and unite us all.
Come and be part of this enchanting experience that will leave you spellbound and forever changed. Let the magic of Jeff Semmerling's puppetry ignite your imagination and remind you of the boundless possibilities that lie within the world of art.
We can't wait to share this incredible adventure with you!
---